Here is a list of the new Bachelors from Harvest Moon 3DS: A New Beginning.
Note: More soon. Need to rip the character faces from the screen shots and wait for some more translated info.
Allen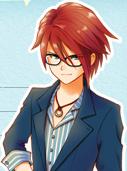 A stylish hairdresser, passionate about his work. He is extremely confident, although he seems to have a spoiled personality. He is very professional and takes his job very seriously, but is best at styling girls with long hair. Allen has also known Rod since the two of them were children.

.
Rod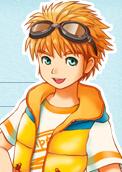 A fun guy with a love for animals. He has loved animals for a very long time and hopes to one day meet someone that understands and loves animals as much as he does. He came to the village to study the influence of animals, and be one step closer to his dream. He likes meeting new people and sells pets (cats, dogs, horses) at his shop stall.
.
Soseki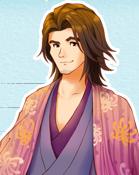 Soseki is a journalist by trade, but a mysterious incident forced him to retire from his profession. He moves to Echo Village to get way from it all. Soseki implies that he is old but his true age is unknown. He tends to complain and lament about various things, and seems to be a frequent visitor to Dr. Klaus' clinic.
.
Sanjay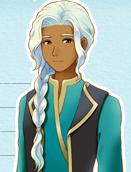 Sanjay is a calm and gentle attendant of Amir, and is there to help the prince with advice and companionship. The two of them are often together. Sanjay isn't Amir's slave, but a good friend who takes care of Amir and listens to Amir's troubles. Sanjay spent his childhood at an orphanage and was well cared for by those in charge.
.
.
Amir
A returning Bachelor from Harvest Moon: Grand Bazaar.
Prince Amir comes from a far away country. He and his comrade, Sanjay, have been looking for inspiration and ways to better their own homeland. Although Amir is 12th in line to the throne, he still is dedicated to helping his beloved country as much as he possibly can.
Every Fall 1, Amir returns to his home country to tend to his royal duties. He leaves Sanjay behind to care for the mansion, and then returns to his home. On Winter 1 he will visit your farmhouse to tell you he has returned. If you marry Amir, he will stay during Fall.

.
Neil
He is a 
Gray
/
Vaughn
 type character. Neil looks like he is an unfriendly person, but that's just due to his lack of social skills. Deep down, he just really wants some friends but his threatening appearance tends to keep people away. Neil has a great fondness for farm animals; in fact, he even likes all the wild animals too. He also has an interest in music.
Ad blocker interference detected!
Wikia is a free-to-use site that makes money from advertising. We have a modified experience for viewers using ad blockers

Wikia is not accessible if you've made further modifications. Remove the custom ad blocker rule(s) and the page will load as expected.