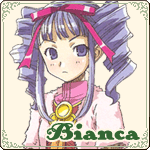 Bianca is a Solitary, wealthy girl who lives in her father Jasper's mansion. She's looked after by her maid Tabatha. She is almost always inside her mansion except on Fridays, when shes at Melody's spa and on weekends when she goes to the plaza. Shes never happy with any gifts that you give her.
The only way you can raise LP is if you talk to her every day and if you take her out on festivals. To marry her you have to have all the basic marriage requirements and have her father up to 3 hearts.
Wife Gift:
Cake
Birthday:
Summer 8th
Ad blocker interference detected!
Wikia is a free-to-use site that makes money from advertising. We have a modified experience for viewers using ad blockers

Wikia is not accessible if you've made further modifications. Remove the custom ad blocker rule(s) and the page will load as expected.