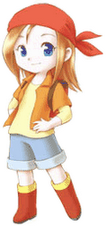 To unlock her you must unlock 15 islands (excluding Sunny Island) and have all of the main character unlocked.

Birthday : Spring 20
Gift
Chelsea doesn't like or dislike any item. You can give her any item and you will earn 300FP.
Heart EventsEdit
purple heart event
Delicious meal
Location : Diner
Sunny day : 12.00 pm to 03.00 pm
Rainy day : 03.00 pm to 06.00 pm
When you enter The diner at verdure island you will see Chelsea having a meal. She will ask if you would like to eat together.
Positive answer :
Eat together
Negative answer :
Pass
Blue heart event
Chelsea the mercant
Location : Chen shop
Rainy day : 03.00 pm to 06.00 pm (not on friday)
When you enter Chen shop you will see Chelsea and Chen talking. Chelsea think it must be fun to run a store and would like to tri it someday.
Positive answer :
That does sound fun
Negative answer :
But aren't you a rancher?
Ad blocker interference detected!
Wikia is a free-to-use site that makes money from advertising. We have a modified experience for viewers using ad blockers

Wikia is not accessible if you've made further modifications. Remove the custom ad blocker rule(s) and the page will load as expected.