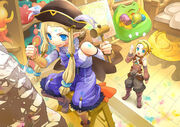 Daria
Daria is the half-dwarf eccentric artist of Rune Factory 3. She's obsessed with rainbows and Dried Sardines.
Official description
"An excitable and eccentric artist of many mediums. She LOVES rainbows."
Birthday:
Family:
Weapon:
When wearing liked perfume:
Huh?
You smell good.
Is it dried sardines?
Micah: I don't think so.
Ad blocker interference detected!
Wikia is a free-to-use site that makes money from advertising. We have a modified experience for viewers using ad blockers

Wikia is not accessible if you've made further modifications. Remove the custom ad blocker rule(s) and the page will load as expected.