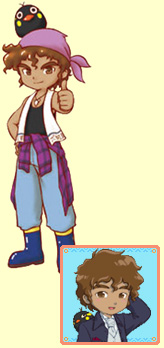 Denny is the fishermen of Harvest Moon Sunshine Island and Island of Happiness. He is proud of his fishing skills and lives in a house by the ocean that is pretty run down and filled with pictures of fish he has caught. He has a little bird that is always on his head or shoulders named Popper.
Birthday: Fall 26
Loves anything with fish in it. Especially Sashimi. He dosnt like any types of ores. If you don't marry him he'll mary Lanna.
Ad blocker interference detected!
Wikia is a free-to-use site that makes money from advertising. We have a modified experience for viewers using ad blockers

Wikia is not accessible if you've made further modifications. Remove the custom ad blocker rule(s) and the page will load as expected.