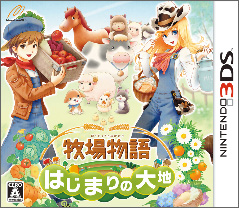 A new harvest moon game, where your character comes to a town/village to live his/her dream of being a farmer. But then finds out that for some unknown reason, people started to move away. Your job is to grow crops, raise animals and much more. By doing so you can convince new people to come live to your town.
This game is scheduled for release in Japan on 23 February 2012
New features:
Change your character appearance.
Customize the ranch.
Start dating with a ring and propose with a blue feather.
Get married in wedding clothes.
Go on a honeymoon with your spouse.
Plant two new crops: cactus and cotton.
Move your house anywhere you want. (other people's houses too!)
Go on vacations with your spouse and children.
Care for pets(cats, dogs,...) or they will get fat.
Meet a female harvest sprite for the first time in the harvest moon series.
Ride wild animals.(pandas, bears,...)
Build your own furniture and buildings.(there in no carpenter, you will have to buy instructions and then build the items yourself with the required material.
more information > http://www.fogu.com/hm/
Promo video >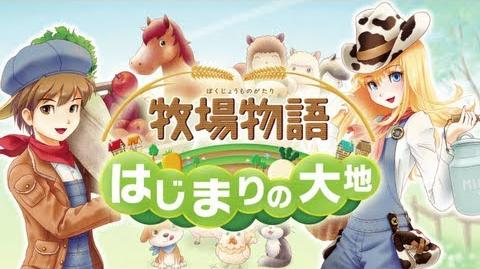 Ad blocker interference detected!
Wikia is a free-to-use site that makes money from advertising. We have a modified experience for viewers using ad blockers

Wikia is not accessible if you've made further modifications. Remove the custom ad blocker rule(s) and the page will load as expected.