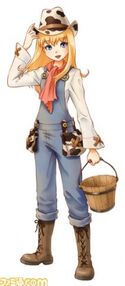 In the begginning of the game you can choose your gender and then change the apperance of your character.
You can choose your:
Skin colour
Face expression (eye shape, nose shape, mouth shape)
Eye colour
Hairstyle (you can change it anytime by going to the hairdresser)
Hair color
Clothes (you have two outfits to choose from, but you can buy more later in the game by visiting the tailor)
Ad blocker interference detected!
Wikia is a free-to-use site that makes money from advertising. We have a modified experience for viewers using ad blockers

Wikia is not accessible if you've made further modifications. Remove the custom ad blocker rule(s) and the page will load as expected.