The list characters who appear in Rune Factory 2: A Fantasy Harvest Moon.
Note: Feel free to edit if I have made any mistakes.
Note 2: These will be put into their own pages for each character.

These are the rivals for each of the girls in Rune Factory 2.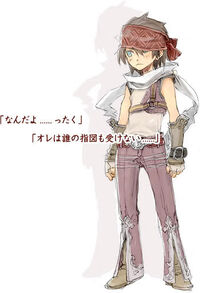 -The son of the mayor of Alvarna and the rival for Dorothy. He will become a teacher in the second generation after you build the school.
Birthday: Spring 5
Birthday Gift: Skipjack Sashimi
Likes: Iron, Salmon, Salmon Sashimi, Salted Salmon
Dislikes: Eggplant
-A half-elf and the rival for Cecelia's love. He works at Tanya's store.
Birthday: Summer 21
Birthday Gift: Platinum
Likes: Bull Horn, Onion, Spinach
Dislikes: Milk
-The son of Herman and the older brother of Rosalind.
Birthday: Fall 6
Birthday Gift: Snapper Sashimi
Likes: Fluffy Scarf, Platinum, Proof of Warrior
Dislikes: Weeds
-Alicia's brother and Natalie's son. He is the rival for Rosalind's heart.
Birthday: Fall 8
Birthday Gift: Grape Juice/Fried Rice*
Likes: Pink Cat, Pink Melon, Pumpkin Pudding, Vegetable Juice
Dislikes: Shrimp
Grape Juice is his gift in the frist generation while fried rice is his second generation gift.
Ad blocker interference detected!
Wikia is a free-to-use site that makes money from advertising. We have a modified experience for viewers using ad blockers

Wikia is not accessible if you've made further modifications. Remove the custom ad blocker rule(s) and the page will load as expected.