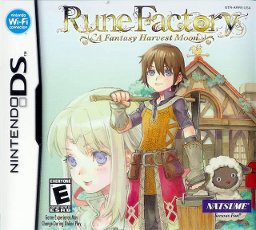 Rune Factory: A Fantasy Harvest Moon is the first installment of the Rune Factory series. It was developed by Neverland Co. and published by Marvelous Interactive and Natsume for the Nintendo DS. It was released August 24, 2006 in Japan, August 17, 2007 in North America and February 13, 2009 in Europe.
This series much more magical and even includes features of a standard RPG, such as fighting. You can still grow crops and woo a wife, as well. There is also a much deeper story in the Rune Factory series than a standard Harvest Moon game.
Information
Edit
Ad blocker interference detected!
Wikia is a free-to-use site that makes money from advertising. We have a modified experience for viewers using ad blockers

Wikia is not accessible if you've made further modifications. Remove the custom ad blocker rule(s) and the page will load as expected.